Rod Williams poses in front of the chopper which transported him throughout Vietnam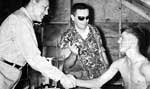 Congressman Robert Taft Jr., Rod Williams and a wounded Marine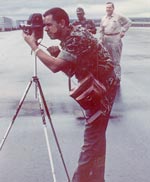 News Director Williams doubled as a WSAI war photographer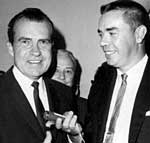 Richard Nixon and Rod Williams
Rod Williams was News Director of WING in Dayton, Ohio, from the late 1950's until the early 1960's. It was the dawn of Top 40 Radio, introduced in Dayton by WING General Manager Dale Moudy (a protege of Todd Storz.) While in Dayton, Williams was instrumental in the formation of one of Ohio's first sport parachute clubs.
Williams' interview with convicted murderer Edith Klump is credited with helping to win her stay of execution and eventual release from death row.
Williams left WING to join WSAI in Cincinnati as News Director. He won numerous awards as a combat reporter in Vietnam, including resolutions of commendation from the 105th Ohio General Assembly and the Cincinnati City Council. While at WSAI, Rod helped establish Cincinnati's first private jet club.
Williams left WSAI and became manager of KMVI, Maui, Hawaii, (where he had been a staff announcer before WING) and KHEI-KVIB, Maui. He also managed KBYR-KNIK in Anchorage, Alaska before returning to Cincinnati as manager of WRBZ-WCVG. WCVG was the world's only "All Elvis" formatted radio station.
Rod is presently semi-retired but produces documentary videos for the travel market. He devotes considerable time to working with the handicapped. Rod and his wife Ruth Rettig reside in Burlington, Kentucky.
Rod Williams was inducted into the Broadcasters Hall of Fame in Akron Ohio on October 4, 2000. Previous inductees include Lawrence Welk, Chris Schenkel and Edward R. Murrow.