TOP STREAM 32.0Kbps (10 Khz)


PD Profile: WCOS Columbia, S.C. 1974 (10:31)

. . . What makes a radio station tick? . . .

Description by Uncle Ricky

This profile of WCOS in Columbia, South Carolina, appeared on Volume 2, Issue 14 of Programmer's Digest, dated January 14, 1974. And once again, Programmer's Digest demonstrates all the things that can (and did) go wrong with audio back in the day.

Program Director Dave MacDougall introduces his radio station and staff. This composite features short airchecks of MacDougall, Dave Kirby, Ken Martin, Hunter Herring, Jeff Walker, Scott Rader and Ken Moore.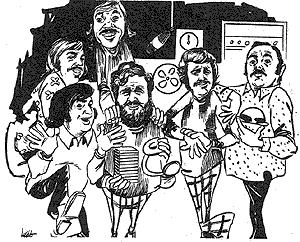 Cartoon of the WCOS Staff, (l-r) Martin, Walker, Herring, Rader, MacDougall, Kirby
I remember applying for the Program Director's position at WCOS, about a year before the "facelift" described here. I also remember I didn't hit it off with the G.M. Whatever, I ended up moving to Providence, Rhode Island, a much better market.
This is the ONLY recording of anything from WCOS ever presented in the Repository. This is quite peculiar, considering that the station was THE Top 40 station in South Carolina's capital city for many years. It will be interesting to see if anyone remembers any of the staff members presented in this composite.