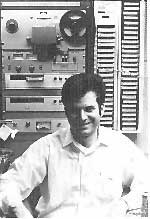 Ray Glasser, 1970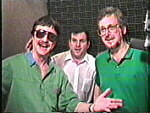 Jackson Armstrong, Ray Glasser, Jim LaBarbara, 1988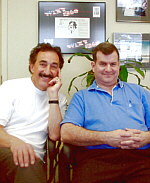 Larry Morrow
and Ray Glasser, 2005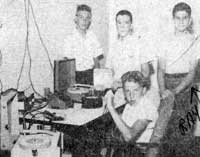 Spinning the records on WMFH, the Hillcrest area's first radio station, is disc jockey Jack Boomer, seated. Standing left to right are engineers Larry Smith, Brian Breen
and Ray Glasser.

Ray Glasser writes:

My interest and involvement in radio and pop music began in the Spring of 1960, when I was 12, when 3 of my neighborhood friends and I were asked if we wanted to be on the radio! A good friend of mine had a neighbor who was an engineer for a local radio station, and had a transmitter, 2 turntables, microphones, etc., and he put us on the air. The station was called WMFH (for MayField Hts., our hometown, a Cleveland suburb), and we were actually on the air at 540 kc for about 6 months! That spawned my interest in radio and music, and it is still with me today. I majored in Radio and TV at Ohio State University, and at one time was working 3 part-time, non-paying radio jobs at OSU! Although I've never worked in commercial radio or TV, I've always enjoyed listening to the great stations and jocks of the 1960s and 70s. I got "out" of radio in 1976 when I got my first Betamax VCR, and became a video fanatic (see my Betamax website at www.betainfoguide.com), but even by then, I had built up an extensive radio and music collection that spans 1960 thru 1976. Some of the many airchecks that I have are on this site. Many were made on my trusty Webcor Royalite mono tape recorder, which I retired in 1973 when I got a Teac 3300 stereo deck.

Being from Cleveland, I was fortunate to have some of the "classic" stations in my area....KYW/WKYC, WHK, WIXY, and of course my favorite, CKLW. I can't believe there isn't more of WIXY on the Web - although it lasted only 10 years, it had some GREAT jocks, played the best music, had great jingles, and was a major force in Cleveland radio in its heyday. I also lived in Maryland in 1973, and made some airchecks of some really good stations at that time - WPGC, WMOD, WCAO,WWDC, WASH and others. I remember tracking 38 FM-stereo stations on the dial when I lived there... not bad for the early 70's!

I've noticed that some of the stations that I'm bringing to this site haven't made an appearance here yet. I'm glad that I can bring some of these to you.

The Repository thanks Ray Glasser for sharing!