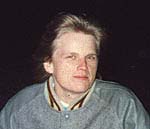 Keith Smith, nearly frozen, on the roof of KMEL during the Golden Gate Bridge 50th Anniversary Celebration (1987).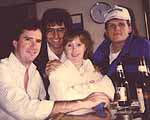 John London, Brian Cooley (Newsman), Official KMEL barmaid, and Keith Smith - the KMEL Morning Zoo at their favorite bar.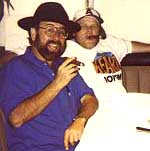 Shotgun Tom Kelly and Keith Smith at a Shotgun Tom Cigar Dinner.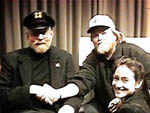 Robert W. Morgan, Keith and wife Collette at Morgan's Retirement Tribute
Keith Smith, Production Director at KRTH-FM, Los Angeles, grew up in the San Francisco Bay Area listening to Dr. Don Rose, Big Tom Parker, Rick Shaw and Bobby Ocean, among others, on the "Big 610" (KFRC). When he decided to pursue a career in radio, that era and those great broadcasters became his standard of measurement.
His first REAL job in radio was at K-101 in San Francisco, where he worked with Chuck Browning. Keith says, "I didn't know at the time that he was a radio legend, but after many nights hanging out at a local watering hole, I realized that he had been at some great radio stations and that he had done some great radio."
Later, he worked with Mike Phillips (currently Program Director at KRTH), and Big Tom Parker and was able to meet some of the guys he had listened to as a kid, like Dave Sholin and others.
In 1986, he joined KMEL in San Francisco, where he worked with Steve Rivers, John London, Keith Naftaly, Howard Hoffman and others who he says "left indelible imprints" on his broadcasting career.
In 1991, Keith moved to Los Angeles, and in 1992, he had the chance to work with Robert W. Morgan and The Real Don Steele. Keith says, "As I began to work with them I realized that these guys were pros, and all they wanted to do was be great on the air - and they were. I remember walking in the studio day after day in the afternoon, and Don saying 'Hey Keith, I love ya baby!!'. I also remember having to go into Robert W. Morgan's office to tell him not to throw and break commercial carts when he got mad. He could have chewed my head off, but he just said, "O.K." I respected them, and they respected me. It wasn't until later that I realized how great these guys really were. Working with them has changed my professional life."
The Repository thanks Keith for sharing!