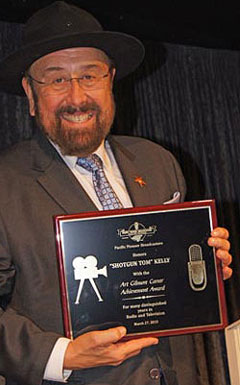 Shotgun Tom Kelly and The Pacific Pioneer Broadcasters Art Gilmore Career Achievement Award. Photo by Don King
On March 27, 2015, Shotgun Tom Kelly was honored by the Pacific Pioneer Broadcasters with the Art Gilmore Career Achievement Award.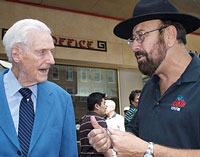 Art Gilmore and Shotgun Tom Kelly

Shotgun Tom fondly remembers the late Art Gilmore. The great "

Red Skelton Show

" announcer was also the narrator of "Highway Patrol," hundreds of

Warner Brothers

movie trailers, and many other radio and TV shows. Shotgun is proud to display the award with Art's name on it.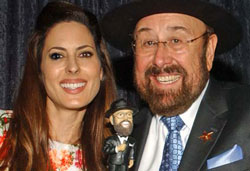 Kerri Kasem, the Shotgun Bobblehead and Shotgun Tom Kelly (David Keeler photo)

Of course, a top-rated Southern California radio disc jockey has a popular bobble-head doll, and here we see one with

Kerri Kasem

, talk radio/TV host and daughter of the late, great

Casey Kasem

. She swore she is never without her "prized possession," and went on to amuse attendees with several humorous "Shotgun Tom" stories.

left to right: K-EARTH 101 morning DJ Gary Bryan; KFI evening talk host Tim Conway, Jr., and KABC Radio's Kerri Kasem. (David Keeler photo)

Pacific Pioneer Broadcasters President

Chuck Street

promised luncheon guests there would be a surprise, and this was it: Emulating the guest of honor's iconic "Shotgun Tom" trooper hat, each dais member was presented with a close replica, although he did confess they were made in China.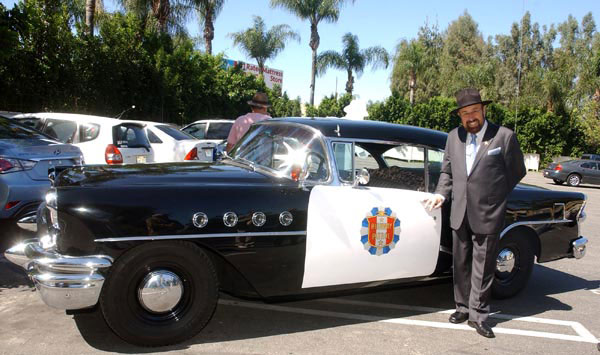 Members driving into the Sportsmen's Lodge parking lot for the "Shotgun Tom" Kelly celebrity luncheon on March 27 were thrilled to see an actual antique Buick used in the TV series "Highway Patrol" on display with our honoree standing beside it. Shotgun later received the Art Gilmore Career Achievement Award, named for one of PPB's founders who was also the announcer and narrator on that iconic TV series. (David Keeler photo)
---

G2 VIDEO TOP STREAM 800 Kbps

[Description by Uncle Ricky for contributor Shotgun Tom Kelly.]
This video was produced by Jhani Kaye for presentation at the Pacific Pioneer Broadcasters Awards Ceremony on March 27, 2015. It's an imaginative all-for-fun tribute to Shotgun Tom Kelly that includes some rare film and tape of Shotgun's amazing career.
You'll see Shotgun going to work at San Diego's KGB in 1972, where he shows us how to "cue" a record; A clip from Words-A-Poppin, his Emmy award-winning children's TV show, and his acceptance speech for that award. You'll also see him at B-100 and KRTH, and hear him as the voice for America's Most Wanted, and as an anonymous DJ in the major motion picture Deja Vu.
Shotgun received his star on the Hollywood Walk of Fame on April 30, 2013, and that ceremony concludes this video about a remarkable radio performer, now recognized by the Pacific Pioneer Broadcasters.
THE FIRST 11 SECONDS, AND THE LAST 5 SECONDS OF THIS EXHIBT ARE SILENT, THERE IS NO SOUND, ONLY VIDEO.

COMMENT ON SHOTGUN TOM KELLY PACIFIC PIONEER BROADCASTERS AWARD