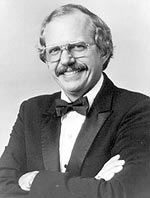 The Very Formal Pat Patterson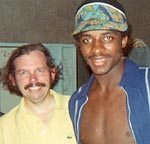 Pat and David Thompson, N.C. State Basketball, 1974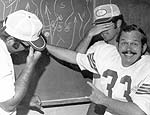 Pat Patterson as Quarterback for the 1974 NC State Freshmen team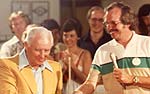 Billiards champ Willie Mosconi with Pat Patterson, 1977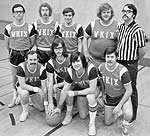 The KIX Kagers, 1972. Pat Patterson, lower left, Rick Dees, lower right

Pat Patterson is remembered as the very funny morning host and very successful Program Director at Top-40 Legend WKIX in Raleigh, North Carolina, from 1969 to 1974.
Pat's long career began when he worked his way through school at a local AM station and graduated from Kansas State in 1958. His early experience included brief stops at WGR/Buffalo, WPTR/Albany, WPRO & WICE/Providence, and WCOP/Boston. Following WKIX, Pat left Raleigh twice - once for WHDH/Boston and again for KULF/Houston, just in time to have the station "sold out from under him - the fifth time that happened", according to Patterson.
He also worked at at WQDR-FM/Raleigh from 1977 to 1982, and returned to WKIX for their Cool Gold revival from 1988 to 1990. Patterson hosted a talk show from 1990-1997 on WDNC/Raleigh and most recently has worked there and at sister station WCHL/Chapel Hill, in Sales.
Pat earned four Billboard awards during his time in Raleigh for Best Morning Personality in a Medium Market and Best A.M. Personality in a Major Market. He released two rock 'n' roll singles (which did nothing) and while in Raleigh, he recorded three comedy albums, most of them featuring bits from his show. "At least I got my money back," says Pat.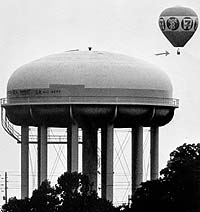 Pat (see arrow) narrowly avoids air disaster

Pat's Publicity Stunts during the WKIX years included four hot air balloon rides, with the last one ending in a crash landing. "But I did get my champagne!" Pat says. "I also wrestled Victor the Bear, a dumb idea that lasted 30 seconds. I quarterbacked the N.C. State Freshman team and later the Alumni Teams as 'Celebrity QB'. Four plays each game and I damn nearly got killed."

"The biggest fun thing at 'KIX was organizing and coaching the KIX Kagers basketball team. We played 35-40 high school faculties a year and raised over $80,000. I averaged 25 points a game and never played in high school!"

Pat Patterson passed away in January, 2017.