TOP STREAM 32Kbps (10Khz)

This Exhibit 'SCOPED (13:28)

. . . Well, this is becoming an international broadcast! . . .
Description by Uncle Ricky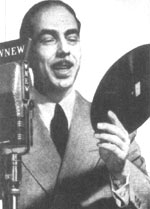 Martin Block
According to The Hits Just Keep On Coming by Ben Fong-Torres, Martin Block is often credited for creating The Make Believe Ballroom — the first DJ show. But Ben wrote that Al Jarvis actually did it first in Los Angeles, in 1932. Block was in L.A. at the time, heard the show, and took the idea and Ballroom with him to New York and WNEW in 1935.
WABC changed to what most would consider a "Top 40" format in December, 1960. On this Saturday in April of 1960, eight months before they changed format, the entertainment was Martin Block and the Make Believe Ballroom. This edited and restored mostly hi-fi exhibit differs significantly from earlier Ballrooms, in that there is no attempt to present music as performed on a stage. Instead, Mr. Block is counting down the Top 24 songs from the current issue of Cashbox magazine.
This exhibit features #22, and #20 through #13. Number 21 was edited out, though you will hear him introduce it on this recording, followed by a quick cut to #20. Are you impressed by the style, quality and class of his presentation? Martin Block died on September 18, 1967, his elocution and enunciation no longer in vogue. He was 64, and a successful, professional radio announcer — even if he wasn't actually the first DJ.