STEREO TOP STREAM 64Kbps (14 Khz)


This special interview is an original production created for REELRADIO by Larry Ware. It is presented in two parts. Part One includes Harry's recollections about his early years in Chicago, Peoria and New York. Part Two continues with Harry's career at WABC and WCBS-FM.

. . . Wishing you all the very best, because that is exactly what you deserve . . .

[Description by Larry Ware]

Harry Harrison, New York's beloved Morning Mayor, began his radio career in the early 1950's in Chicago, IL as a volunteer at FM educational station WBEZ. In 1953 he obtained a temporary eight-month position at 50,000 watt WCFL as a summer replacement before winding his way to my hometown, Peoria, IL.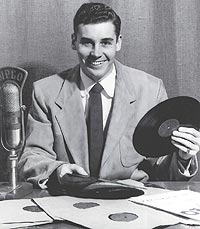 Morning Mayor Harry Harrison, WPEO Peoria, Ill.

It was in Peoria (from Jan. 1954 - Nov. 1959) at 1000 watt WPEO that Harry cultivated his homespun, genuine, warm, and personable, on-air style that has remained as unchanged through the years as Harry himself. This unique style, which he brought to New York in 1959, has made him one of the most loved and respected on-air personalities of all time. Harry's unquestionable integrity has always played a major role in both his personal and professional life. Although Harry calls his audience his "radio friends," they are more like a family in which he takes a personal interest. This affection is returned via the positive support Harry has received from his audience over the years he has worked in radio.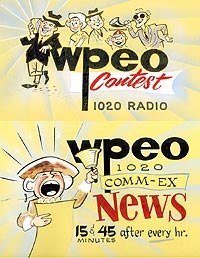 WPEO Print Advertisements.

In June of 2001 I initially wrote to Harry Harrison at WCBS-FM to find out more about this popular New York DJ who once worked here in Peoria. Harry sent me a very nice packet with photos and information from his WPEO days and our relationship began. Over the years Harry and I have shared a multitude of airchecks, photos, videos, and printed information. I've had a rare opportunity to get to know this very gracious and generous person. I can personally say that Harry is truly the same person off-air as he appears to be on the air and am very proud of the fact that he had his beginnings right here in the Midwest and in my own hometown of Peoria, IL


WABC Print Advertisements.
Last fall, after hearing Harry's intriguing account of his radio career and the path that led him to the New York market, I asked if I could conduct a telephone interview with him for REELRADIO. To my surprise, he agreed. Over the course of three recording sessions between November and December, 2004 Harry recounted the path of his radio career, along with some insights into his personal life.
With the generous help of fellow aircheck collectors, I was able to assemble the supporting audio material that is heard throughout the interview. But the bulk of the roll-ins came from Harry's own personal collection.
Over the course of 6 months this interview was produced and digitally edited in my basement "studio." With the exception of a Gentner (hybrid, used to record the phone interview) all the other equipment used was consumer grade electronics, a 20-year old Radio Shack microphone, and two eight-year-old PowerMac computers. My wife, Hope Ware, who has had extensive production experience at WPEO radio, advised me in quality issues throughout the production and editing process. She was a tremendous help.
One of the most interesting surprises that came out of this project was establishing contact with one of Harry's co-workers from WPEO, Bob Moore. He was their news director from 1958 to 1960. Bob very graciously agreed to voice the opening of this interview for me (on his own personal cassette recorder). A WIRL engineer originally captured Bob Moore's voice from WPEO back in Oct. 1959. This engineer was checking their competitor's sign-on and sign-off times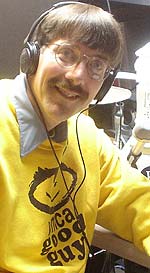 Larry Ware in his basement studio, 2005.

to insure that the station was in compliance with FCC regulations. This now rare 16-minute recording is the only existing aircheck from WPEO's Top-40 days. (Portions of this recording can be heard in various places throughout the interview.) I was able to re-establish contact between Bob Moore and Harry Harrison, who had not heard from each other since their Peoria days together.

For most of the roll-ins I tried to stay true to the content and the time period with only one notable exception. The WPEO jingles that appear throughout are from the 1960 PAMS Series 14, incorporated just after Harry left the station.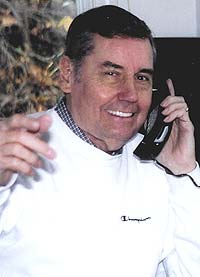 Harry Harrison, 2005.
It is my hope that you will enjoy this rare glimpse into Harry Harrison's life and radio career. It was my desire to not only capture Harry's story but some of his wonderful humor, personality, and warmth as well. I count it a great privilege and joy to have worked with such a fine gentleman as Mr. Harrison. He was so patient and understanding to work with throughout this project.
I'd like to extend a heartfelt thanks to radio's best friend, Harry Harrison, for graciously sharing his life with all of us.

Harry Harrison: An Interview with Larry Ware
"When The Red Light Goes On, I Talk"