TOP STREAM 32.0Kbps (10 Khz)


. . . Once again, all the quiet music in the world! . . .

[Description by Larry Ware]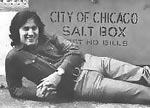 John Landecker, 1974 (Courtesy Todd Haverstock)

John Landecker was one of my favorite DJs in high school. His quick wit and outrageous on-air style are well-captured in this WLS aircheck of the 7PM hour from March 25, 1974.

Landecker has fun with the WLS Radio Robin promotion. Also, listen for the Mazda rotary Wankle engine commercial.

Thanks to Bob Gilmore for providing this aircheck to me.


TECHNICAL NOTE

: Somewhere along the way, this was dubbed from a fluttery tape shedding oxide and adhesive. As a result, the fidelity varies from VERY GOOD to disappointing — with intermittent squeaking, mostly in the second half. Please remember that regardless of fidelity,

REELRADIO

must pay music licensing fees to present unedited music online. If you enjoy unedited airchecks like this one, your tax-deductible

contribution

to our operating fund will help keep this and other "unscoped" exhibits available.
©2003 REELRADIO, Inc. All Rights Reserved