Advertised as "Northern California's Largest" July 4th Fireworks Display, The 1988 July 4th Pyromusical Spectacular at the California State Fairgrounds was sponsored by The California State Fair, Sacramento's top CHR station, FM-102 (KSFM) and their AM sister (an automated oldies hybrid), MAGIC 1380.
The attempt to resurrect KROY by Great American Broadcasting had failed. I was still working for 1240AM (which inherited the KSAC call letters), so my participation in this show was as a contract employee for ShowPro, working with the Producer and my buddy, the late Don Early.
The theme for our 1988 Pyromusical was The Choice Of Freedom. We wanted more "interactivity" than previous years, so we asked the audience to "Applaud America" whenever they heard the Liberty Bell. To assure that they did, we asked our Pyrotechnics contractor, Ian Gilfillan, to synchronize a big shell with each toll of the bell. Of course, it worked — people always scream and yell at a big burst of color and noise. This year, we built in some "quiet" places following the biggest pyrotechnics. Experience had taught us that the crowd was so loud after the big explosions that they could never hear the soundtrack anyway.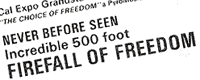 This show also included an all-new effect which we had seen demonstrated in May 1987 at the 50th anniversary celebration of The Golden Gate Bridge in San Francisco. It was a "Fireworks Firefall", in which large roman candles were hung upside down from a cable. When ignited, they produced a curtain of gold and white fire! We didn't have a bridge at the fairgrounds, but we did string a 500-foot cable in the firing area for our FIREFALL OF FREEDOM. I can't remember how tall it was. I do remember it took a significant piece of the fireworks budget, but it was a great effect — over in about 30 seconds.
Prior to the Pyromusical, this event also featured live entertainment. Arista recording artist Taylor Dayne and WEA artists The Dynatones performed on a stage we built inside the race track, along with local favorite Elvis Monroe and The Sacramento Freelancers, an award-winning 128-piece drum and bugle corps.
My friend Rick Gillette had left for Detroit, and Brian "The Blind Owl" White (KCBQ, 99X, KFRC) was the FM-102 PD that year. Les Tracy (WLUP, KZAP) was the MAGIC 1380 Operations Manager. FM-102 Morning ZooMaster Chris Collins appeared as the Voice of Courage. The narrator was my old friend Tony Cox.