[Description by contributor Jon Pearkins]

Presented in two parts, this two hour unscoped stereo aircheck of Ed Mason's last "Fabulous Forgotten 45s" show debuts on the 30th anniversary of Ed's arrival at CHQT on February 3, 1975. "Uncle Eddy's Rumpus Room", as the Sunday morning show was officially known, began in late June 2001 when CHQT switched to Oldies and became Cool 8-80. The show always focused on requests, and Ed plays the hardest to find of those requests, "Baby Weemus" by Nino Tempo and April Stevens.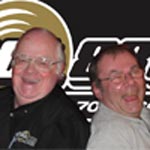 Chuck Chandler
and Ed Mason,
COOL 880, 2002

There were also the regular features, such as the instrumental at the top of each hour. On this occasion, they are Jorgen Ingmann's "Apache" and the Challengers' "Deadline", the latter the theme song of Ed's first regular show, back in 1963 in Flin Flon, Manitoba. You will also hear instrumentals by Floyd Cramer, Duane Eddy with the Ventures, Cliff Richard's Shadows and Neil Young's Squires. Called "Mustang", it was from Neil's first recording session, recorded by retired CHQT DJ Bob Bradburn, back in 1963 when he was at CKRC Winnipeg.

This recording originated from CHQT's studio feed to the local cable company, prior to audio compression and transmission as Edmonton's only remaining AM stereo station, one of two left in Alberta. It is fed by cable on the FM band to all cable TV customers. The recording was made directly from an FM receiver to the Hi-Fi tracks of a VHS tape. It was digitally mastered from the same VCR to a CD recorder deck. The resultant CDs were Digital Audio Extracted (DAE) on a computer to 44Kbps stereo .wav files, and edited slightly to create a clean start. The resultant .wav files, along with a sample of the background noise levels, were stored on CD-Rs and shipped to REELRADIO.


PROCESSED FOR ONLINE PRESENTATION
Other firsts included are Ed's first 45, "Bernardine" by Pat Boone from the 1957 movie of the same name. A cut from Marty Robbins' 1960 album "Gunfighter Ballads and Trail Songs", the first LP Ed ever bought. "Storm Clouds" by Buddy Knox and the Rhythm Orchids, the first live band performance that Ed ever attended. And the first record from the first "Fabulous Forgotten 45s" show, "Reveille Rock" by Johnny and the Hurricanes.
This show ends with what, quite fittingly, remains as the last song that Ed has, to date, played on the air, "Rock and Roll is Here to Stay" by Danny and the Juniors. In between, there is "Short Fat Fannie", "Mohair Sam", "Susie Darlin'", "Fannie Mae", "Pony Time", "Mule-Skinner Blues", "Ebony Eyes", and "Running Bear" by Johnny Preston, with backgrounds by the Big Bopper. There is also some "nice and easy" Jerry Lee Lewis, a great 1964 Beatles album cut, Simon and Garfunkel before they were S&G, the Dell-Vikings, a great Lesley Gore song I haven't heard since it was a hit in 1964, a Canadian hit by one of Edmonton's greatest DJs, the late Barry Boyd, and a classic Bob Newhart bit. Barry Mann sings "Who Put the Bomp" but try and guess who sings the answer song that follows, before you hear it back-announced. The biggest feature of the show is a four song tribute to Buddy Holly, Richie Valens and the Big Bopper, including a 1959 tribute, "Three Stars", by then-KFXM San Bernardino DJ Tommy Dee.
At the time, cool880.com had a Personalities page for Ed, where he listed his favourite DJ as Wolfman Jack in the days when he was only on XERF. Ed plays a Wolfman bit from the "American Graffiti" soundtrack that also intros "Buster Brown" for him.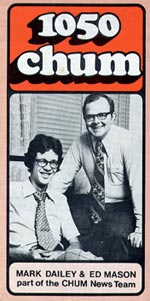 From CHUM, 1974

Ed's career began part-time at CFAR Flin Flon, in northern Manitoba, where his father was Chief Engineer, and was on the air when News broke of President Kennedy's assassination and Oswald's killing. He soon hosted Club 590, an evening teen show, and then moved to AM Drive on CHTM in Thompson, Manitoba (1965-66), CKSA Lloydminster, Alberta (1966), back full-time at CFAR (1966), CHAT Medicine Hat, Alberta (1967), middays at CFPA Thunder Bay, Ontario (1967-68), AM Drive CHOV Pembroke, Ontario (1968-70), and then four years at CKDA Victoria, quickly moving into News and then News Director. Most of 1974 was spent at CHUM covering all News shifts, including working with the legendary Dick Smythe, Jungle Jay Nelson's AM Drive Newsman. But beginning February 3, 1975, Ed has been AM Drive News on CHQT Edmonton.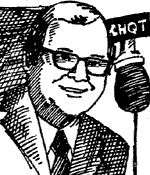 Caricature of Ed Mason

CHQT was the first of many media ventures of Edmonton surgeon Dr. Charles Allard when the station signed on August 19, 1965. Like many such stations of the time, the Q stood for Quality as in "beautiful music" as it was then known. Around 1990, it was finally replaced with very light rock including a heavy dose of softer Oldies, but switched to straight Oldies as Cool 8-80 in late June 2001. Its first ratings period, with Bob Bradburn on AM Drive, scored a 7.3 Share, making it the most-listened to music-based AM station in Canada.

This exhibit is UNSCOPED, meaning that all the music is included. We are required to pay a fee for each listener for all musical performances on this recording. Plus, we must also pay the cost of Internet bandwidth to deliver it to you. We are a user-supported organization, and if you enjoy this exhibit,

please say thanks with your support

.

As part of the new format, Ed was given 10:00 a.m. to noon on Sundays, with complete creative freedom. He did every show live, even when he was supposed to be on vacation. The music was primarily from Ed's collection, which he painstakingly restored for airing. He also voice-tracked the "Sixties at Six" for an hour every weekday evening. Both shows had no requirements for Canadian Content.

Edmonton is Canada's most northerly major city, with a metropolitan population exceeding one million. It is the capital of Alberta, Canada's second most westerly province that includes much of the Rocky Mountains and most of Canada's Oil and Natural Gas reserves. Summer days do get warm, as you will hear if you translate the Celsius temperatures to Fahrenheit: multiply by 1.8 and add 32.