A couple of back-to-back commercials are worth explaining. The Copper Pot Restaurant overlooks the North Saskatchewan River which cuts Edmonton in two, and is only two blocks from The Leg, as the local provincial capitol buildings are known. The reference to The Premier is the elected leader of the Province of Alberta. The Alberta Blue Cross commercial that follows is voiced by Bill Coull, whose last name, pronounced Cool, would fit right in at Cool 8-80. Instead, he won the Canadian Jazz Announcer of the Year award just before retiring from CKUA in 2004. Shortly after joining CKUA in 1963, he created the station's eclectic music format with the late John Runge, who moved to CKLG-FM Vancouver to become Music Director of Canada's first Underground FM station.
Cool 8-80 debuted an all Oldies format in late June 2001, as CHQT slowly evolved from the background music that was so popular when the station first signed on August 19, 1965. A 7.3 SHARE in its first ratings period made it the most-listened-to music-based AM station in Canada, but those numbers were never equaled following the retirement of long-time morning man Bob Bradburn. A format change to All News was scheduled for May 20, 2008. Owner Corus felt that the best way to meet an Edmonton All News license application by Rogers, was to do it first themselves.
Ironically, the pieces were already in place to deliver ratings numbers for Cool 8-80. Sports, business and hourly News were gone, replaced by 88 second 20/20 News solely in Morning and Afternoon Drive. The music was more focused on Rock, including '80s and even some early '90s material. The Malt Shop replaced The Disco Diner during the key noon hour period, when Edmonton listeners expected to hear Oldies on the radio. The syndicated Wolfman Jack Show was moved to overnights from 10-noon to avoid having to compensate with a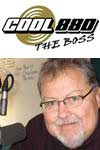 Gord Robson higher percentage of CanCon during the rest of the mid-day hours. The format was even called The Boss, with lots of nice Drake style touches.
But what really made it work was the newfound variety in the CanCon. And that was solely the work of one man: Gord Robson. As Music Director, Gord picked almost all the music aired on the station. Unfortunately, Gord passed away March 21, 2008, at age 56.
At the time of his death, there was a tremendous outpouring of comments about Gord's ability to both encourage and teach by the many in Canadian radio who repeatedly remembered him as kind.
"Cars Cost Less in Wetaskiwin" has been a very successful advertising slogan for the last few decades in Edmonton. An hour's drive for a lower price. On September 29, 2006, Wetaskiwin's CKJR-1440 switched to an Oldies format meant to capture the sound of Cool 8-80 when they first signed on in 2001, complete with the same jingle package and long-time Edmonton DJ Billy Williams on mornings. Since, they have added many of Gord's newfound CanCon Oldies. Maybe Oldies really do cost less in Wetaskiwin.