| | |
| --- | --- |
| | This exhibit was available as a special holiday presentation in 2011, 2012, 2013, 2014, 2015, 2016 and again in 2017. |
Bill Reiter Soul Christmas, CHMB Vancouver B.C.
December 9, 2001 (61:54)
. . . as we like to say to the hop-hippers . . .
[Description by contributor Jon Pearkins]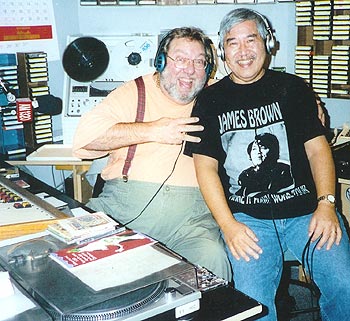 Left: DJ Zig Zag (Bill Reiter),
Right: Sweet Daddy Fonk (Sunny Wong)

The 2011 REELRADIO Holiday Presentation of this aircheck marks the tenth anniversary of the

CHMB

broadcast on December 9, 2001. There were some parts missing in the original recording, so a few segments from the December 2, 2001 show were merged into this exhibit.

Bill Reiter's impact on Vancouver radio is substantial. His voice is still heard most days on the radio as far away as Edmonton, Alberta. This special All Christmas, All The Time show is a continuation of his franchise Groovin' Blue show, featuring "New World African Music", comprised of "Jazz, Soul, Funk, R&B, Reggae, Blues and Gospel".

Groovin' Blue, produced and hosted by Bill Reiter, first aired on Vancouver radio station CKLG-FM in October, 1967. CKLG management wanted to air a unique program that echoed the type originally hosted in San Francisco by Russ "The Moose" Syracuse on KYA's "All Night Flight".

Since that original show, the Groovin' Blue format has aired on other Vancouver radio stations including CKST-FM (Coast 1040), CJVB-AM/1470, and CHMB-AM/1320.
For this special Holiday show, Bill is DJ Zig Zag, and his co-host Sunny Wong appears as Sweet Daddy Fonk. Sunny never worked in radio, other than with Bill. One promo that includes short clips from Wolfman Jack on XERB and Art Laboe offers a clue for Reiter's influences. He dedicates a song to the incarcerated ("things are bad, but they could be worse") and tells a story about receiving a Rooty Toot for a Christmas present.