TOP STREAM 32Kbps (10Khz)


. . . all we really wanted was the session money - which was like forty dollars . . .

[Description by Uncle Ricky from notes by contributor Don Kent]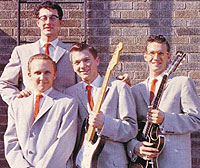 Buddy Holly and The Crickets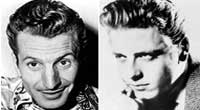 Ferlin Husky & Eddie Cochrane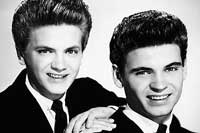 The Everly Brothers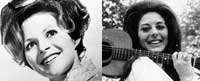 Brenda Lee & Bobbie Gentry

This is Hour Eight of the First and Original History Of Rock And Roll, as broadcast by

KHJ

between 7 and 8PM on February 21, 1969. Our host is

Robert W. Morgan

.

Charlie Tuna

is heard in the commercial breaks as the "announcer on duty". How long was his shift that day?

Recorded off the air on reel tape by contributor Don Kent, this program defined all the "music documentary" programs that followed. This hour was particularly noisy, so the "skips" you will hear are actually removed explosions of AM noise and static.

This was the first "Rockumentary", produced by KHJ Program Director Ron Jacobs. Following the unprecedented success of this legendary broadcast, Jacobs left KHJ later that year. RKO made the show available to the other stations in their group, narrated by station-specific talent. When RKO was done with it, Drake-Chenault offered a re-recorded version in syndication three times between 1972 and 1982. An edited version (no jingle) of the last release, narrated by Bill Drake, was still in syndication as of 2006.

This original KHJ Hour pays tribute to the country music that influenced rock 'n' roll. Top 40 wasn't Rock 'n' Roll, as much as some wanted it to be. Many "Top 40" hits were Country hits, first. There is an early recording of little Phil and Don singing gospel music with the Everly family, and comments from the late Buddy Holly and other early music stars named "Buddy". Did you ever consider that Ferlin Husky, Eddie Cochrane, Brenda Lee and Bobbie Gentry were all related, musically?

There is also another delightful example of those first-class KHJ advertisers, with an exceptionally stylish spot for Continental Airlines (the proud bird with the golden tail) and The Real Don Steele for that Raceway in Orange County.

The morse code REELRADIO "copymark" included (once) in this exhibit is a reminder that duplication and distribution for trade or sale is illegal and inappropriate. Tell your friends who want to hear this recording to subscribe to REELRADIO and support our organization.