TOP STREAM 32Kbps (10Khz)


. . . It's Creedence Clearwater Revival and his friends, in a big tent with sawdust on the floor . . .

This Exhibit 'SCOPED (13:35)

If all you want is the jings and the jock and the spots, this version's for you! Please remember that in addition to

music licensing fees

for the mostly UNSCOPED version, there are

bandwidth and hardware costs

for this 'SCOPED version, and anything streamed from REELRADIO. We welcome your

support

.

This REELRADIO exhibit from contributor

Curt Lundgren

is presented in recognition of the induction of

The True Don Bleu

into the

Minnesota Broadcasters Hall of Fame

on October 29, 2005. Curt taped this on a Saturday in October 1968.

Bleu is a native of East Grand Forks, Minnesota, and started his radio career in 1966 at hometown station KILO with the encouragement of University of North Dakota classmate Shadoe Stevens. A step up to KQWB in Fargo eventually led to KDWB in the Twin Cities, where he enjoyed major success for ten years.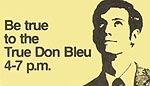 The True Don Bleu, from a 1968 KDWB Heavy Hit List
His success in Minnesota opened the door to KHJ in Los Angeles, and in 1980, he moved to San Francisco, where he was twice named National Adult Contemporary Air Personality of the Year by Radio & Records. As of October 2005, Bleu was continuing a long run as Morning host on Star 101.3 FM in San Francisco.
REELRADIO congratulates Don Bleu on his induction into the Minnesota Broadcasters HOF and on his long and successful career in music radio.