Don Jennett, Christmas 1969, in his new Roman Gabriel Edition RAMS uniform.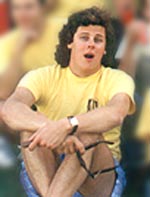 College Dude Don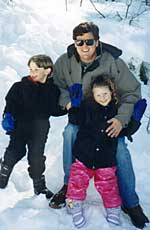 Don with son Calvin and daughter Victoria, January 1999, north of Nevada City, California.

Don Jennett was born in Los Angeles in 1962, and is an avid collector of Los Angeles airchecks.
Many L.A teens grew up with Boss Radio 93/KHJ. But in 1969, Don was only seven years of age when he was first hooked on KHJ.
As an adolescent, he made all-too-brief airchecks of KHJ, KFI and 10-Q.
He was unaware that the tapes would become collectibles, so not much survives from that era. His collection, as presented here, was built virtually from scratch.
Don dreamed of being a "Boss Jock" or a journalist while growing up, and was schooled in newspaper journalism. He was Entertainment Editor and Radio Critic for the Cal State Long Beach Daily Forty-Niner during his college years.
He became aware of aircheck collecting as a hobby in 1991, when he stumbled upon KRLA's April Fools' day broadcasts of classic DJs like Dave Hull, Emperor Hudson, Bob Dayton and Charlie O'Donnell.
His career path took him into the world of advertising sales. He moved to Nevada City, California in 1998, where he worked as a publisher's representative.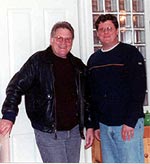 Bobby Ocean and Don Jennett, April 2001, San Rafael California.
Don's only hands-on contact with radio — other than being a former groupie — was as a volunteer broadcaster at KVMR-FM, public radio in Nevada City.